This little hot ceramic bowl of soup,
Reminds me of my grandma's house today.
The memories may throw me for a loop,
But I am glad that they are here to stay.
She used to feed me with such love and care,
Whenever I was fortunate enough,
To spend some time with her and Grandpa there,
Now those were better days; just off the cuff.
My grandpa, rest his soul, is ten years gone.
My grandma, praise the lord, is still around.
Though while her brain is great, she's not much brawn.
I'll rue the day when she's no longer found.
Until that time I'll let her know she's great,
And eat just every bite off of my plate.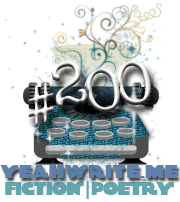 *I am loving the poetry feature each month! This is my first sonnet and all I cared about was getting the form right. (did I do iambic pentameter correctly? also, I have no idea how to use punctuation here.) Christine and Saroful's sonnets were amazing and my next try will have some purpose, and hopefully some real poetry, behind it.

I also had fun posting a Cento. I couldn't enter it because it's taken from song lines, but you can check it out here.